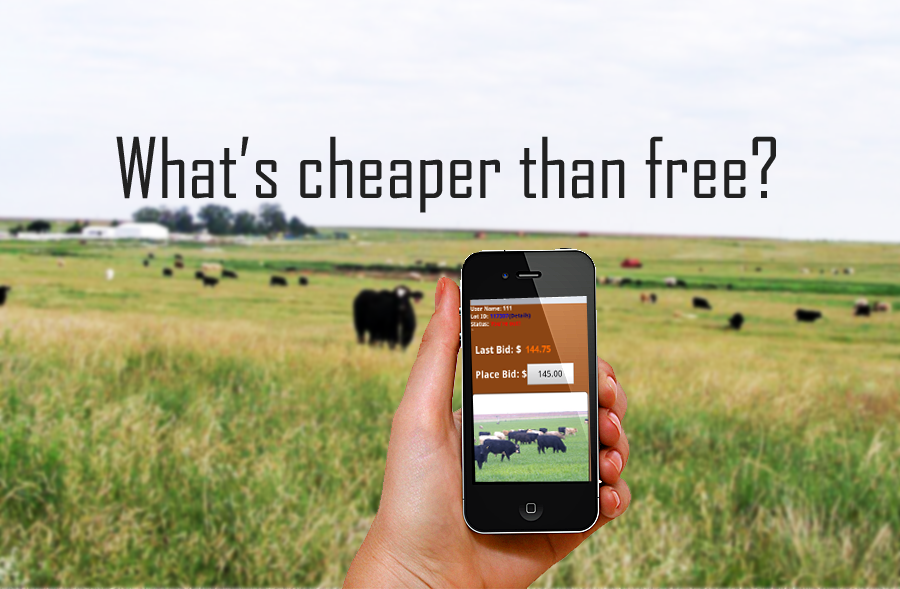 <![if !vml]>

<![endif]>beefnet
cash commodity exchange
MEMBER AGREEMENT
Article I. General Terms and Conditions
Section 1.01 The Beefnet Exchange ("Beefnet") provides for a centralized trading platform and other described services on the web located at http://www.beefnet.org (the "Site"). Beefnet allows registered customers ("Members") to buy and sell agricultural products through Beefnet's Exchange (the "Exchange") Members will also be provided other services as more fully described in this Agreement. Through the Exchange, Members are able to make or list offers and/or submit bids on specific agricultural products. These products may change from time to time and new products may be added and old products discontinued.
Section 1.02 Members may engage in electronic trade matching, through live auctions or otherwise, resulting in binding transactions with other Members. All Members agree to the terms of the transactions and upon receipt of the Confirmation Email as set forth herein, agree that any consummated transaction shall create a binding Purchase/Sales Contract ["Sales Contract"] according to the Trading Rules. Members also agree to read, understand, and abide by the Trading Rules ("Trading Rules") provided to them from the Site that are specific to each product traded on the Exchange.
Section 1.03 Members can be either a Buyer or Seller or can be both Buyer and Seller. If a Member offers products or services for sale or responds to an inquiry, the Member is considered a ("Seller.") If a Member responds to an offered product, or posts a bid to purchase products, the Member is considered a ("Buyer").
Section 1.04 Beefnet may provide services to some Members other than Exchange trade matching. Some Members may choose to only participate in selected services offered by the Exchange. Some of those services will include:
Settlement and Clearing. Electronic trade documentation including notices, contracts, settlement sheets, and shipment and receipt records as well as data warehousing.
Money flows.  Settlement and clearing services will use Automated Clearinghouse transfers [ACH] on instruction from the users and provided through the Bank of Commerce, Amarillo, Texas ("Bank") as the accepted agent for all Members.
Freighting.  Beefnet may establish a trucking clearinghouse for hauls of cattle and grain for products originating on the Exchange or off Exchange.
Article II. Agreement with Terms and Conditions
Section 2.01 This Membership Agreement ("Agreement") describes terms and conditions applicable to the Member's use of the Exchange. By clicking the "I AGREE" button at the bottom of the Agreement, you accept the terms and conditions of this Agreement. Please print a copy of this agreement for your records. If you do not accept these terms and conditions or have questions concerning these terms and conditions, please contact Beefnet at Phone number 806-242-7960  or the Contact Us email link on our webpage.  Beefnet may amend this Agreement or the Trading Rules at any time by posting the amended terms and conditions on the Beefnet Site and the effective date of any such amendment will be the date on which the amended Agreement or Trading Rules are posted on the Site. Members are responsible for reviewing and agreeing to the Trading Rules for each product traded and being familiar with the terms and conditions of trade. To become a Member, you must register by filling out an application and by selecting a User Name, and Password. A Member may have more than one person authorized to trade on their behalf but each person will have their own log in authorities. Only those persons who have been expressly designated by a Member to participate in the Exchange on the Member's behalf and who have been given a separate log in authorities, may participate in the Exchange trading activities on behalf of a Member. Any action taken by such authorized person[s] is deemed to be the action of the Member and the Member is responsible for all financial obligations created.
Section 2.02 Eligibility for Exchange Membership is available to any qualified participants in the industry who are capable of forming legally binding contracts under applicable law, and meet the financial soundness criteria set by the Exchange, and meet other requirements of the Exchange set forth in our qualification policy. Notwithstanding anything to the contrary contained in this Agreement, we may refuse to accept an application for membership in our sole discretion and/or limit a Member's use of the Site and/or Exchange at any time. If you have any questions about eligibility, please contact the Beefnet Exchange at Phone 806-242-7960.
Article III. Terms and Conditions of Trade 
Section 3.01 The Trading Rules for each commodity offered on Beefnet may differ and Members are responsible for reading and agreeing to the Trading Rules for any commodity they participate in buying or selling. 
Section 3.02 Binding transaction. A binding Sales Contract is formed based on the terms of the Lot offering and the Trading Rules when the Lot is awarded to the high bidder or Buyer. Buyer and Seller will receive a confirmation by email of a consummated transaction on the Exchange after an auction or matched trade ["Confirmation Email"].  Sellers will be identified when listing products for sale and both Buyers and Sellers will be disclosed upon consummation of a transaction.
Section 3.03 Any Confirmation Email not rejected within 12 hours of receipt will be considered irrevocably accepted by the Member. Any rejection must be by email and accompanied by reasons for rejection and will be subject to the arbitration provisions of this agreement and the Trading Rules if a dispute arises between Buyer and Seller.
Article IV. Transaction Fees
Section 4.01 Members agree to pay the Beefnet Exchange Transaction Fee ("Transaction Fees") on any transaction on the Exchange that becomes binding for Buyer and Seller in accordance with this Agreement and the Trading Rules. The Transaction Fee is calculated according to the Beefnet Exchange Transaction Fee Schedule which will be posted on the Site and available to all applicable Members. The obligation to pay the Transaction Fee arises at the time that a transaction becomes binding for Buyer and Seller in accordance with the Trading Rules and will be due to Beefnet Exchange immediately and collected electronically when the Sales Contract is deemed approved by Beefnet.
Section 4.02 A Member agrees not to identify an offering on the Exchange and communicate and negotiate a transaction off the Exchange with another Member of the Exchange or otherwise circumvent the payment of the Transaction Fee. A Member who lists offerings on Beefnet but sells the offering off Exchange will remain liable to pay Beefnet the applicable Transaction Fee for such transaction. In addition, any Member who engages in circumvention is subject to having their membership in Beefnet Exchange immediately and permanently revoked.
Article V. Access to the Site
Section 5.01 Equipment and Connections. Member is responsible for providing all equipment necessary to access the Internet and the Site. Access to the Site requires use of compatible browser software. It is highly recommended Members use a broadband connection and slower connections like dial up or mobile may cause unnecessary delays or bid problems for which Beefnet is not responsible.
Section 5.02 Availability of the Site. The Site is usually available 24 hours a day, 7 days a week. However, Beefnet retains the right to make the Site and Exchange unavailable from time to time for any reason. Member agrees that Beefnet shall not be liable for any damages arising from any interruption, suspension or termination of the Site and/or the Exchange or the failure of the Exchange to record a bid correctly or timely.
Section 5.03 Use of Passwords. Access to and use of the Site and the Exchange is secure and protected through a combination of a User Name, Password and tracking IP addresses of computers, tablets or mobile devices used on the Exchange. Each Member will be assigned a unique User Name, and alphanumeric Password. Acceptance of a Membership application by Beefnet validates a Member's User Name, and Password. The User Name and Password provide entry to the Exchange. The log on of an approved Member allows a Member to consummate a transaction on the Exchange. Any person expressly designated by Member to act on their behalf shall be given their own User Name and Password ["Authorized Designees"]. Members are responsible for the security of their passwords and the passwords can and should be changed regularly by the Member and their Authorized Designees. Beefnet is not responsible for and has no liability to a Member, or any other person or entity, for the unauthorized use of a Member or Authorized Designee's User Name or Password.
Article VI. System Integrity
Section 6.01 Applicable Laws. Members agree to comply with all applicable local, state, federal, and international laws, statutes, rules and regulations relating to Member's use of the Site and the Exchange. Without limiting the foregoing, Members are responsible for observing all applicable tariffs and trade laws.
Section 6.02 No Unauthorized Access. Member shall not provide access to the Site to other persons through use of Member's User Name, or Password. The Member is solely responsible to ensure the Member takes no action or omits to take action which in either case results in any other person utilizing Member's User Name, or Password. Beefnet is specifically not responsible for the use of any Member's User Name, or Password by another party. No member may be logged in from more than one device.
Section 6.03 Malicious Intent. Member agrees not to tamper in any way with the software or functionality of the Site. Without limiting the foregoing, Member agrees not to put any material into the Site or Exchange which contains any viruses, time bombs, trojan horses, worms, cancelbots or other computer programming routines that may damage, interfere with, intercept or expropriate any system, data or information.
Section 6.04 Maintenance of Confidential Information; Beefnet may review confidential information of Members during and following Membership application such as credit and background checks. Beefnet will not maintain those records or capture them in a reproducible form nor disclose any information to third parties, except to the extent that such disclosure is mandated by a court of law, administrative body, or other regulatory agency. The Beefnet staff will sign confidentiality agreements with Beefnet agreeing to non-disclosure of Member's confidential information. Members agree not to disclose confidential information given by another Member and described as confidential information. Beefnet assumes no responsibility or liability for confidential information shared between Members. In addition, Member agrees not to disclose Beefnet confidential information disclosed as such. Member agrees not to invade another Member's or Beefnet's privacy by hacking or attempting to hack while on the Beefnet Site. This includes, but is not limited to, the breach or attempted breach of the security of another Member's computer, software or data without the knowledge and express consent of such Member or unauthorized intrusion into Beefnet's confidential files and records. Use or distribution of tools designed for compromising privacy or security is strictly prohibited. 
Article VII. Information Posted on the Site
Section 7.01 Member is solely responsible for information posted on the Exchange. However, Beefnet may take any action with respect to such information it deems necessary or appropriate in its sole discretion if it believes such information may give rise to liability to it or other parties or interfere or impair its relationship with any Member. More specifically, and without limitation, information posted on the Site:
<![if !supportLists]>· <![endif]>(a) must not infringe any third party's rights, including but not limited to copyright, patent, trademark, trade secret, or other proprietary rights or rights of publicity or privacy;
<![if !supportLists]>· <![endif]>(b) must not be fraudulent or involve the sale of stolen items;
<![if !supportLists]>· <![endif]>(c) must not violate any applicable law, statute, rule or regulation including proper disclosure of liens;
<![if !supportLists]>· <![endif]>(d) must not be obscene, indecent or contain pornography;
<![if !supportLists]>· <![endif]>(e) must not be defamatory, trade libelous, threatening or harassing; and
<![if !supportLists]>· <![endif]>(f) must not link directly or indirectly to or include descriptions of products or services that:
<![if !supportLists]>o <![endif]>(i) are prohibited by this Agreement or
<![if !supportLists]>o <![endif]>(ii) are concurrently listed for sale by other means or through another market agency other than the Exchange. In addition, you may not post on the Site or sell on the Exchange any product or service which, by paying us our Transaction Fee, could reasonably be expected to result in a violation of any applicable law, statute, rule or regulation.
Article VIII. Intellectual Property Matters
Section 8.01 Member acknowledges that all data developed and/or collected by Beefnet in connection with the operation of the Site and the Exchange shall be the exclusive property of Beefnet. Beefnet's use of such data will be made in accordance with our Privacy Policy setting forth that no information concerning Members shall be shared with any third parties without the prior written consent of Members, except (i) for the fact that Member is a member of Beefnet, (ii) pursuant to the license granted below, or (iii) for data derived from Transactions and all information needed and necessary to the commercial consummation of sale of products on the Exchange. All third party content published on the Site is property of the respective copyright owners and may not be copied or distributed in any way by Members for commercial purposes. Members grant Beefnet a non-exclusive right license to advertise or otherwise publish non-transaction specific information about the Exchange both on and off the Exchange, but Beefnet may not use Member's names in advertising without permission prior to publishing. Beefnet may create graphs dealing with Basis trends, market trends, and other general market characterizations. Beefnet may post advertisements on the Exchange for its sole benefit.
Article IX. Termination and Expiration
Section 9.01 Termination Rights. Either Beefnet or Member may immediately terminate this Agreement at will in writing or via e-mail. Notwithstanding such termination, Member agrees to honor all outstanding obligations to Beefnet or to other Members, including but not limited to honoring all outstanding obligations under this Agreement or the Trading Rules, existing Sale Contracts, and the payment of Transaction Fees.
Article X. Relationship between Beefnet and Members
Section 10.01 It is expressly agreed that Member and Beefnet Exchange have no agency, partnership, joint venture, employer-employee or other similar relationship. No such relationship is intended or created by Member's acceptance of this agreement or the Trading Rules, use of the Site or participation in the Exchange.
Article XI. Dispute Resolution and Applicable Law
Section 11.01 Applicable Law. This Agreement, Trading Rules and Member's participation in the Exchange shall be governed by and construed in accordance with the laws of the State of Texas without regard to conflict of law provisions. Member and Beefnet Exchange agree that any controversy or claim arising out of or relating to the Membership Agreement or Trading Rules and the relationship between Member and Beefnet Exchange shall be submitted to binding arbitration in accordance with arbitration rules established by the Exchange and available under the Trading Rules. The Arbitration venue will be in Amarillo, Texas.
Article XII. Limitation of Liability
Section 12.01 As a condition of membership to the Site, and in consideration of the services provided by Beefnet, Member agrees that neither Beefnet, nor any officer, affiliate, director, shareholder, agent or employee of Beefnet will be liable to Member or any third party for any loss of profits, loss of goodwill or reputation, direct, indirect, incidental, special, punitive, or consequential damages, or costs resulting directly or indirectly from, or otherwise arising in connection with:
<![if !supportLists]>· <![endif]>(a) the use of the Site by the Member, including but not limited to damages resulting from or arising from Member's reliance on the Exchange, or the mistakes, omissions, interruptions, errors, defects, delays in operation, non-deliveries, mis-deliveries, transmissions, eavesdropping by third parties, or any failure of performance of the Exchange;
<![if !supportLists]>· <![endif]>(b) the suspension or termination of Member's membership by Beefnet pursuant to the terms of this agreement;
<![if !supportLists]>· <![endif]>(c) the failure, or alleged failure, of any product purchased or transferred pursuant to the Exchange to conform to any specifications or terms, whether published on the Exchange or not;
<![if !supportLists]>· <![endif]>(d) the breach, or alleged breach, of any warranty, express or implied, relating to any such product or shipment;
<![if !supportLists]>· <![endif]>(e) government restriction, strikes, war, any natural disaster or force majeure, or any other condition beyond Beefnet Exchange's reasonable control;
<![if !supportLists]>· <![endif]>(f) Viruses or other malicious software obtained by accessing the Site;
<![if !supportLists]>· <![endif]>(g) Glitches, bugs, errors, or inaccuracies of any kind on the Site;
<![if !supportLists]>· <![endif]>(h) damage to your hardware devices or loss of data that results from the use of the Site; or
<![if !supportLists]>· <![endif]>(i) Beefnet's decision to remove a listing from the Site.
Article XIII. Indemnification
Section 13.01 Without limiting the generality or effect of other provisions of this Agreement, as a condition of membership, each Member agrees to indemnify, hold harmless, and defend Beefnet, and each of its respective affiliates, sub-contractors, agents, and employees against all third party claims, liabilities and damages incurred or allegedly incurred by Beefnet arising out of such Member's participation on the Site, including but not limited to any product or services sold on the Exchange for failure of a product to meet specifications or breach of warranty.
Article XVI. Other General Provisions
Section 14.01 This Agreement and the Trading Rules constitute the entire agreement and understanding between the parties with respect to the subject matter of this Agreement and supersedes and replaces any and all prior written or verbal agreements. Headings are for references only. A party's failure to insist upon or enforce strict performance of any provision of this Agreement or the Trading Rules shall not be construed as a waiver of any provision or right. Neither the course of conduct between Member and Beefnet nor trade practice shall act to modify any provision of this Agreement or Trading Rules. If any provision of this Agreement is held to be invalid or unenforceable, such determination shall not affect such provision in any other respect or any other provision of this Agreement or the Trading Rules which shall remain in full force and effect. This Agreement may not be assigned or transferred to third parties by Member without prior written permission from Beefnet.
Section 14.02 BY CLICKING THE "I AGREE" BUTTON BELOW I AGREE TO THE TERMS OF THIS AGREEMENTAND THE TRADING RULES. I REPRESENT AND WARRANT THAT I, AS A DULY AUTHORIZED REPRESENTATIVE OF MYSELF OR MY COMPANY, CAN FORM LEGALLY BINDING CONTRACTS UNDER APPLICABLE LAW, AND THAT I AM A MERCHANT AND NOT A CONSUMER USER, FOR PURPOSES OF TRANSACTING BUSINESS ON THIS SITE.